Acappella Harmonies in Appleford meets weekly on Monday nights in
Appleford Village Hall
, Abingdon. We rehearse from 6.30-8.30pm with a break for tea and biscuits in the middle. A weekly pay-as-you-go fee of £3 means it's accessible for all, or if you'd prefer you can pay £25 for a 10-session stamp card. This money goes towards the hire of the hall, music costs, refreshments, running costs and any additional extras.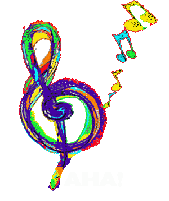 In the first year of AHA forming, the group was fairly small and we worked mainly in 2-part harmonies. In recent months the group has been expanding and we work largely in 3-part harmonies. As the group develops further in the future Charlotte hopes to eventually work in 4-parts.
The group have worked incredibly hard since the beginning and we have covered a large variety of songs. Charlotte likes the choir to suggest music to work on, so everyone gets the chance to sing a song they have requested as well as a selection that Charlotte has picked. We sing everything from popular music to more traditional choral pieces to musical theatre songs and more. For a more detailed list of the music we have explored, please see below.
As mentioned above, this Abingdon based community choir is open to anyone whether you regard yourself as a singer or not. We learn and grow together. All songs are taught by ear but if you prefer to follow the sheet music, the option is available.
Since conception, AHA is a point of pride both with Charlotte and within the village community and has resulted in continuing support from the Appleford Parish Trust. The trust provides the community choir with small amounts of funding to cover the cost of sheet music to ensure longevity of the group.
In June 2018, the group recorded a CD of all the pieces we had worked on until that time. Since then they have developed hugely as singers and recorded another in 2019. Both CDs are available for purchase at £3 and £5 respectivley. Please drop Charlotte an email if you are interested in making a purchase.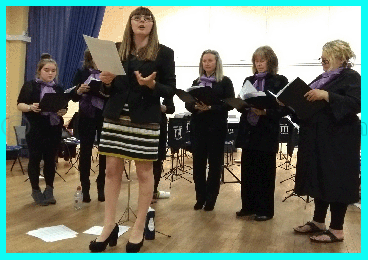 AHA at An Evening Of Brass and Acappella Singing with
Abbey Brass Training Band
, another Abingdon based community group. May 2018.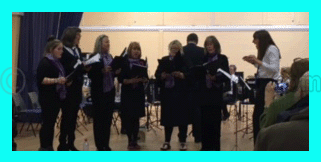 Joint Number at An Evening Of Brass and Acappella Singing - Amazing Grace.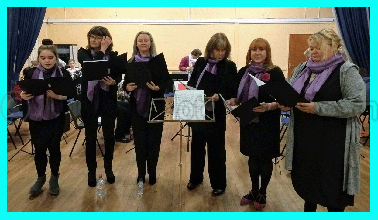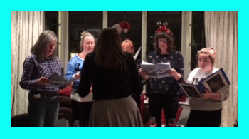 In these trying times, we can't do the things we would normally do, but we can do the things we normally wouldn't do! ~ a lovely quote from a friend that certainly is fitting.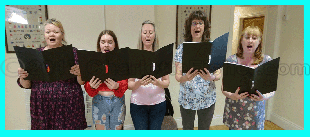 At AHA we are constantly working on new material and broadening our repertoire.
Here is a list of all that we have learnt since May 2017:
All Around My Hat - Steeleye Span
Amazing Grace - John Newton
Angel - Sarah McLachlan
Barbara Ann - Beach Boys
Can You Feel The Love Tonight - Elton John
Fields of Gold - G.M Sumner
Half The World Away - Oasis
Hallelujah - Leonard Cohen
Here Comes The Sun - The Beatles
Irish Blessing - Bob Chilcott
Let It Be - The Beatles
May It Be - Enya
Mamma Mia! Highlights from the Movie Soundtrack - ABBA arr. Mac Huff
Number 1 Hits Medley - Various Artists arranged for AHA
Perfect - Ed Sheeran
Psalm 23 - Howard Goodall
Riverside - Agnes Obel
Run - Snow Patrol
Will Ye Go Lassie Go - Traditional Scottish Folk Song'
Wonder - Emilie Sande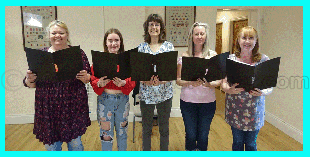 Appleford Village Carol Evening 2017
Coronavirus Update: As of June, AHA is now running virtually at it's normal time of 6.30pm on Mondays, for 1 hour via Zoom. The fee for this is £1.50 per session and Charlotte aims to run these in a manner as close to normal as possible. If you would like to get involved, please get in touch, we would love to see you there! Keep safe and a huge thank you from all of us to all those doing their part in this time of crisis!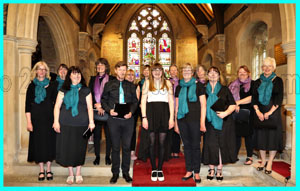 Appleford Harvest Supper - October
Appleford Street Nativity and Carol Service
Carol Service
AHA and AHA:Milton in Concert. June 2019.
December 22nd 2019 - Appleford Church Carol Service
December 18th 2019 - Appleford Carols and Seasonal Refreshments
December 9th 2019 - AHA Social Evening
December 8th 2019- Appleford Street Nativity
October 26th 2019 - Appleford Harvest Feast
2nd June 2019 - Acappella Harmonies in Appleford Concert at St Blaise Church, Milton
19th May 2019 - An Afternoon of Brass and Acappella Singing at Sutton Courtenay Village Hall
20th January 2019 - Village Tea at Milton Methodist Church
23rd December 2018 - Appleford Church Carol Service
17th December 2018 - Appleford Carols and Seasonal Refreshments
10th December 2018 - AHA Social Evening
9th December 2018 - Appleford Street Nativity
13th October 2018 - Appleford Harvest Feast
16th June 2018 - CD Recording
28th April 2018 - An Evening of Brass and Acappella Singing
17th December 2017 - Appleford Carols and Seasonal Refreshments
13th October 2017 - Appleford Harvest Feast
Walking in the Air - Howard Blake, famously performed by Aled Jones
Rockin' Around The Christmas Tree
We Wish You A Merry Christmas
Christmas Lullaby
Winter Wonderland
Ding Dong Merrily On High
Hark! The Herald-Angels Sing
O Little Town Of Bethlehem
Once In Royal David's City
Kings Of Orient
Away In A Manger
Silent Night
Little Donkey
Jingle Bells
While Shepherds Watched Their Flocks By Night
Good King Wenceslas
In The Bleak Mid-Winter
God Rest Ye Merry Gentlemen