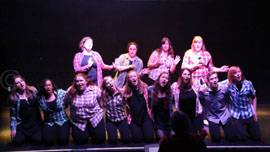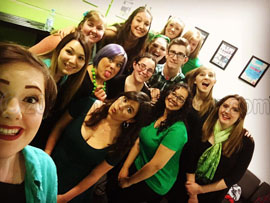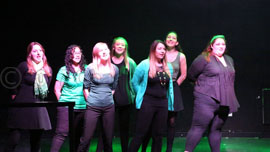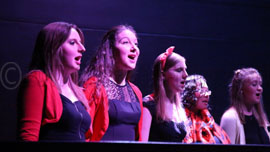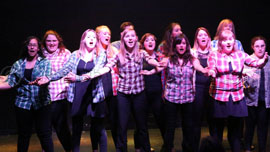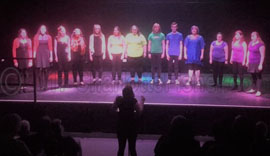 A Cappella Harmonies in Appleford or AHA is a community choir that Charlotte founded in May of 2017. It is a community choir for all ages with a focus on A Cappella singing. She aims to teach a range of different songs to the group from ABBA to Ed Sheeran, to folk music and more traditional songs like Amazing Grace. As the choir is still in it's first year, we work in 2-part harmonies, but as the group develops and expands Charlotte hopes to work in 4-parts.
As the founder of this choir, Charlotte manages all aspects myself, whether that be musical director, administrator, budgeter, publicist, manager and many other roles that need undertaking. With the support of the Appleford Parish Trust, AHA is something Charlotte is truly proud of and looks forward to leading the group each week.
Sing Our Hearts Out:
Sing Our Hearts Out or SOHO was the name of the musical theatre choir at the University of Winchester. Charlotte was a member of this choir throughout her time at university and shared some great experiences with everyone. Every year the choir put on a show at the end of the year full of songs and choreography from all the great musicals!
A Cappella Harmonies in Appleford
A Cappella Harmonies in Appleford or AHA is a community choir that I am setting up with the intention of teaching a range of music to a range of people!
Grade Exams :
In 2013/ 2014, Charlotte was lucky enough to take singing lessons and by the summer of 2014, she took and successfully passed her University of West London Musical Theatre Grade 8 Singing Exam!
At the end of 2019, Charlotte achieved a high Merit in my Grade 6 Classical Singing Exam and she is progressing onto Grade 7 next.
Harmonic Voices was an acappella group which occupied a small part of Charlotte's life in 2009/10. It was a small collective of 7 friends (6 singers and conductor), that she performed in as well as co-founded with the others. The group would rehearse in spare time such as lunch breaks at school, and perform at a range of local concerts. Our repertoire was mostly folk and traditional music such Will Ye Go, Lassie, Go, with the occasional touch of The Beatles!